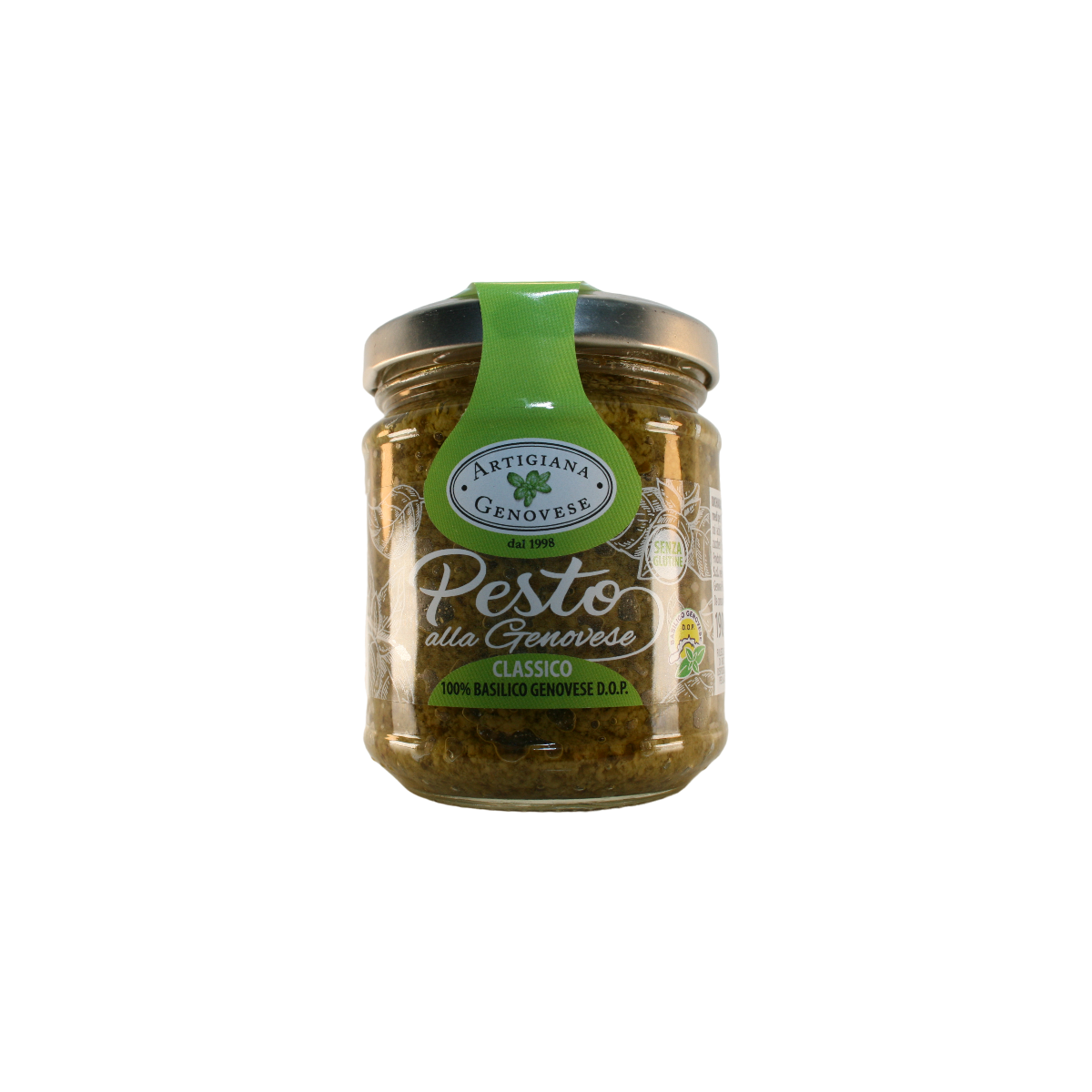  
Pesto alla genovese
Pays

Region
Immerse yourself in the very essence of Italian cuisine with our Pesto alla Genovese, a culinary creation that transcends the boundaries of taste. Stemming from the tradition of Genoa, this condiment unveils an enchanting symphony of fresh basil, crunchy pine nuts and aged parmesan. Prepare yourself for a unique taste journey, an authentic Italian experience that will elevate your dishes to unexplored culinary heights. Treat yourself to the quintessence of Italian cuisine, where every spoonful tells a story of refined flavours and ancestral know-how.
Delivery between 2 and 4 days (indicative)
Immerse yourself in the sensory world of Pesto alla Genovese, a treasure trove of Italian cuisine that transcends the boundaries of the banal to offer you an exceptional taste experience.
From the moment you first taste this condiment, you'll be captivated by its bewitching aroma, a harmonious fusion of fresh hand-picked basil, roasted pine nuts and carefully matured parmesan. The first spoonful reveals a creamy texture and complex flavours, a subtle balance between the sweetness of the basil, the crunch of the pine nuts and the umami richness of the parmesan.
The authentic recipe from Genoa, the birthplace of Pesto alla Genovese, has been handed down from generation to generation, and stands out for its scrupulous respect for top-quality ingredients. Each jar contains the ancestral know-how of Italian artisans, creating an incomparable culinary experience.
This pesto goes beyond the ordinary. It goes perfectly with fresh pasta, sublimates a bruschetta, enhances the flavour of fish dishes or is simply enjoyed as a dip for a sophisticated aperitif. Each use reveals a new dimension of its character, confirming its versatility and ability to transform every bite into a celebration of Italian flavours.
Treat yourself to the quintessence of Italian cuisine with our Pesto alla Genovese. Enrich your meals with Mediterranean authenticity and let yourself be carried away by a taste adventure that transcends borders. Genoa's tradition is in every pot, ready to awaken your senses to the unrivalled richness of true Italian cuisine. Discover the harmony of flavours, discover Pesto alla Genovese.
Customers who bought this product also bought: