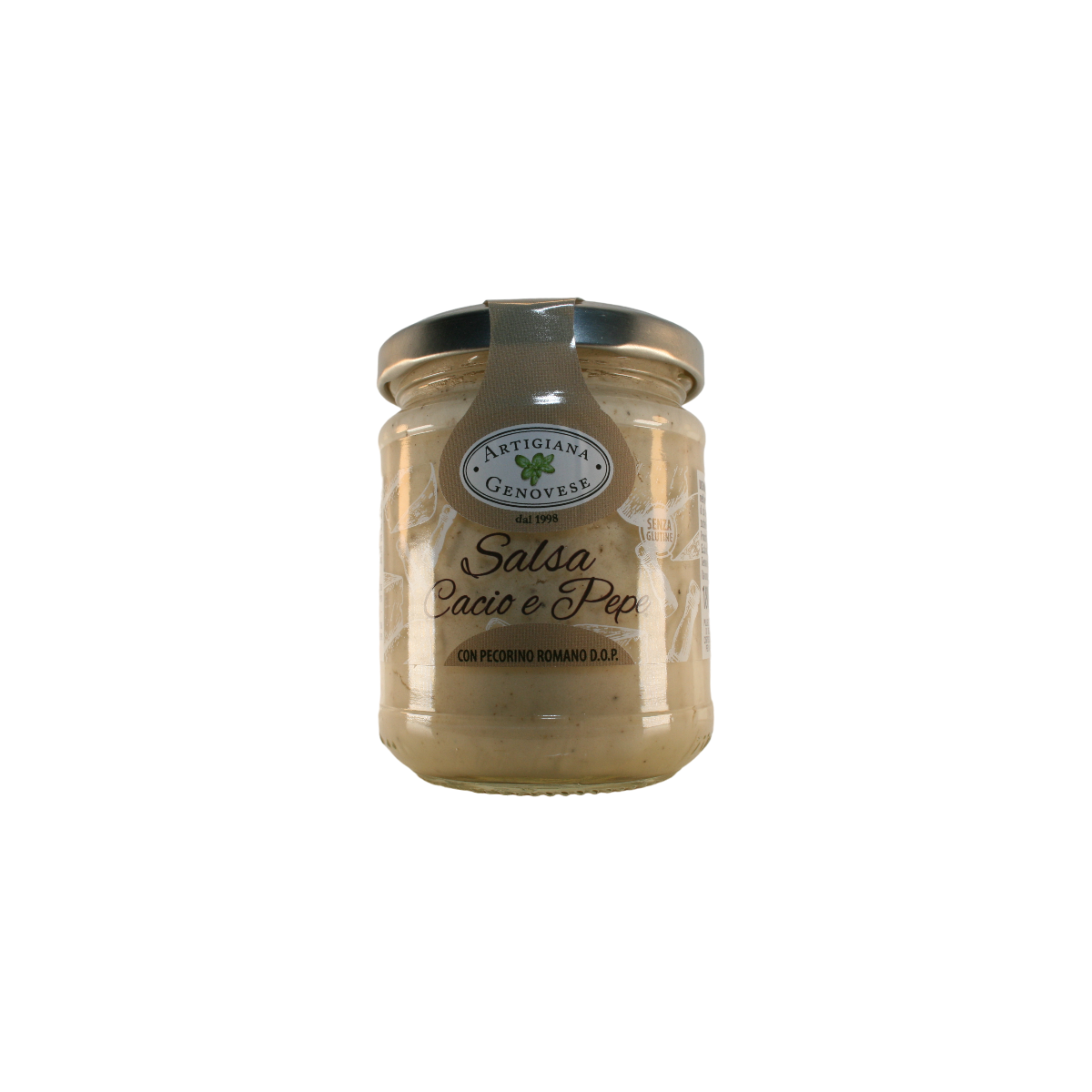  
Cheese and pepper sauce
Pays

Region
Dive into Mediterranean elegance in a jar with our Salsa Cacio e Pepe from Liguria. This artisan culinary creation reinvents classic Italian flavours to deliver an exquisite taste experience. A delicate fusion of cheese, black pepper and authentic Mediterranean ingredients, this salsa will enhance your dishes with gourmet sophistication. Get ready for a sensory journey that will awaken your taste buds and turn your meals into an unforgettable culinary adventure.
Delivery between 2 and 4 days (indicative)
Immerse yourself in an exceptional gastronomic experience with our Salsa Cacio e Pepe from Liguria. This handcrafted creation embodies Mediterranean elegance in a jar, capturing the authentic flavours of Italy in an unrivalled salsa.
Each jar contains a delicate fusion of premium cheese, freshly ground black pepper and carefully selected Mediterranean ingredients. When you open the jar, an explosion of intoxicating aromas instantly transports you to the sunny hills of Liguria.
Our Cacio e Pepe salsa is much more than just a condiment. It's an invitation to a refined and authentic culinary experience. Each spoonful reveals a harmonious marriage of textures and flavours, adding a sophisticated touch to your favourite dishes.
The creamy cheese adds a velvety richness, while the black pepper offers a bold, spicy note. These elements blend perfectly with the Mediterranean ingredients, creating a subtle balance and a unique depth of flavour.
This salsa will quickly become a kitchen essential, transforming simple dishes into truly gourmet works of art. It goes perfectly with fresh pasta, grilled vegetables, tender meats, or even as a dip for sophisticated aperitifs.
Packaged with care, our Salsa Cacio e Pepe from Liguria is the ideal gift for lovers of Italian cuisine and connoisseurs of Mediterranean flavours. Treat yourself to an exceptional culinary experience with this gustatory treasure, a true invitation to the dolce vita. Order now and let yourself be swept away by Mediterranean elegance in a jar.
Customers who bought this product also bought: