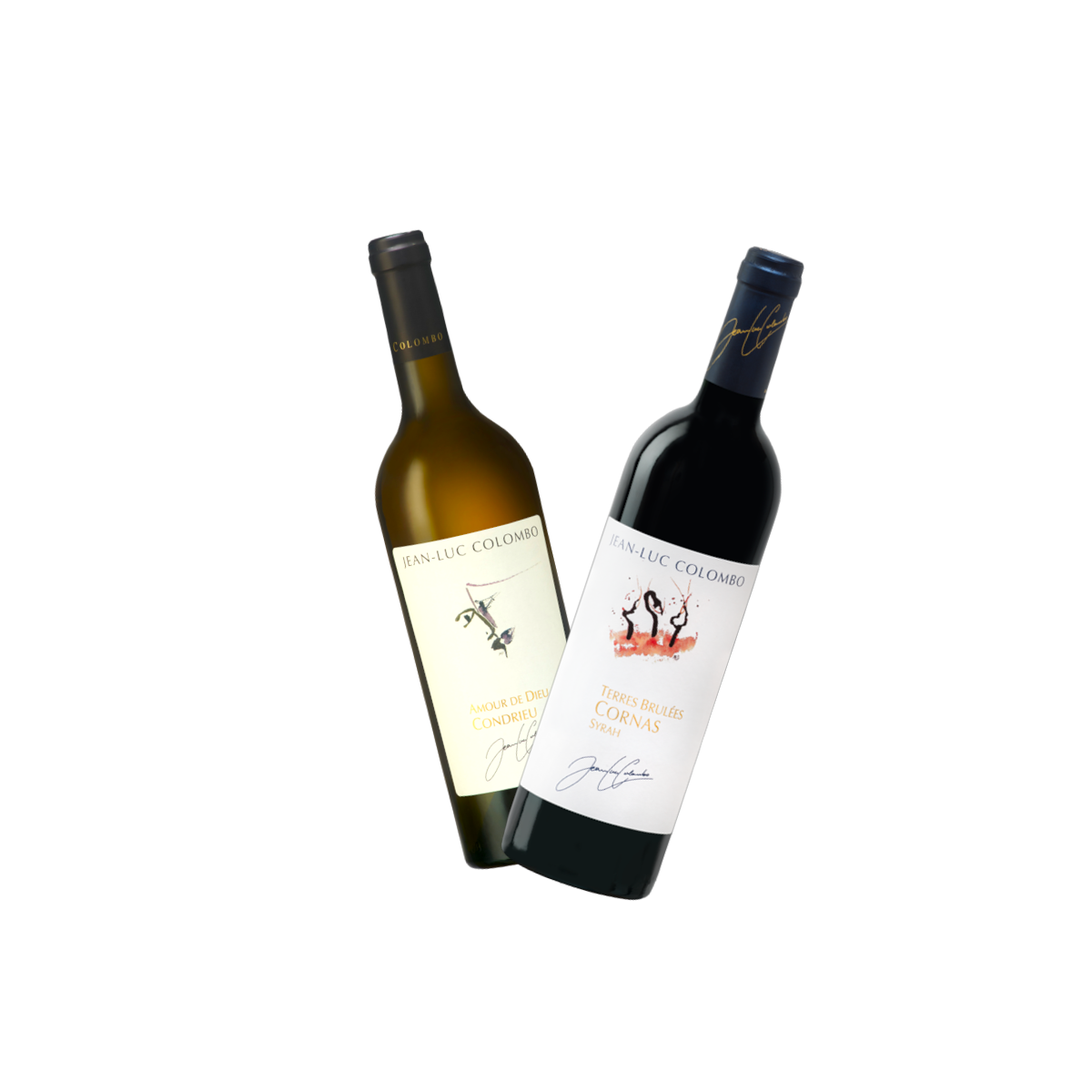  
Wine box: Harmony of opposites
This wine gift box offers an exceptional duo for wine lovers. It includes a Cornas Terres Brulees 2018 and a Condrieu Amour de Dieu 2019, two iconic wines from France's Rhône Valley. The 2018 Cornas Terres Brulees offers a robust experience with notes of black fruit, spice and leather, while the 2019 Condrieu Amour de Dieu seduces with its floral and fruity aromas, including nuances of apricot and peach. This duo will delight connoisseurs by offering an unforgettable tasting of two wines from different but complementary terroirs, each representing the unique character of its appellation. An ideal gift to celebrate special moments with sophistication.
Instead of CHF110.49
Delivery between 2 and 4 days (indicative)
This wine gift set is a real invitation to discover and savour two exceptional wines from the Rhône Valley, a wine-growing region renowned for the quality of its wines. In this duo, you'll find a Cornas Terres Brulées 2018 and a Condrieu Amour de Dieu 2019, two crus that embody the expertise and passion of the region's winemakers.
Let's start with the Cornas Terres Brulées 2018, a red wine that embodies the very essence of its terroir. Cornas is one of the most prestigious appellations in the Northern Rhône Valley, and the 2018 vintage has been particularly well received by critics and wine lovers alike. The Terres Brulées cuvée is produced by the Jean Luc Colombo estate, a benchmark in the region. The name 'Terres Brulées' evokes the fiery nature of the soil on which the vines are grown, a granite soil that gives the wine its power and complexity.
On tasting, the 2018 Cornas Terres Brulées reveals itself in all its splendour. Its deep red, almost purplish colour heralds a full-bodied, intense wine. On the nose, aromas of black fruits such as blackberry and bilberry mingle with spicy notes, black pepper and liquorice. Hints of leather and smoke add depth to this bewitching bouquet.
On the palate, the 2018 Cornas Terres Brulées seduces with its powerful structure and concentration. The tannins are firm but well integrated, promising interesting ageing potential for wine collectors. At the same time, it offers great freshness and finesse, making it accessible now for memorable tasting. Black fruit flavours unfold on the palate, accompanied by a distinctive minerality reminiscent of granite earth. The finish is long, spicy and slightly smoky, leaving an indelible imprint on the palate.
Moving on to the 2019 Condrieu Amour de Dieu, a white wine of rare elegance that embodies the quintessence of the Condrieu appellation, renowned for its Viognier wines. Domaine Jean Luc Colombo, one of the region's pioneers, created this Amour de Dieu cuvée with an unrivalled passion and dedication to the Viognier grape.
The colour of the 2019 Condrieu Amour de Dieu is a brilliant golden yellow, heralding the aromatic richness to come. The nose is a veritable festival of white flowers, ripe apricot, white peach and honey. Viognier is famous for its floral aromas, and this wine is a perfect example, with an elegance and aromatic finesse that make it a real olfactory gem.
On the palate, the 2019 Condrieu Amour de Dieu is full-bodied. It is both generous and balanced, with a velvety texture that caresses the palate. Flavours of stone fruit, apricot, peach and citrus mingle harmoniously with notes of honey and vanilla, bringing exquisite complexity to every sip. The subtle minerality bears witness to Condrieu's exceptional terroir, characterised by decomposed granite soils.
The finish of Condrieu Amour de Dieu 2019 is long and persistent, leaving a soft, fragrant imprint on the palate. This white wine is a true expression of the love and passion for the Rhone Valley terroir, and pairs wonderfully with a variety of dishes, including seafood, poultry or veal dishes, as well as soft cheeses.
In short, the wine pairing presented in this gift box is an invitation to an unforgettable taste journey through the Rhône Valley. The Cornas Terres Brulees 2018 will appeal to lovers of full-bodied, complex red wines, while the Condrieu Amour de Dieu 2019 will delight connoisseurs of elegant, fragrant white wines. Whether it's for a special occasion or simply to treat yourself, this boxed set is a true celebration of exceptional French wine. Give it to a friend, a loved one or yourself, and savour every sip of these two Rhône Valley treasures.