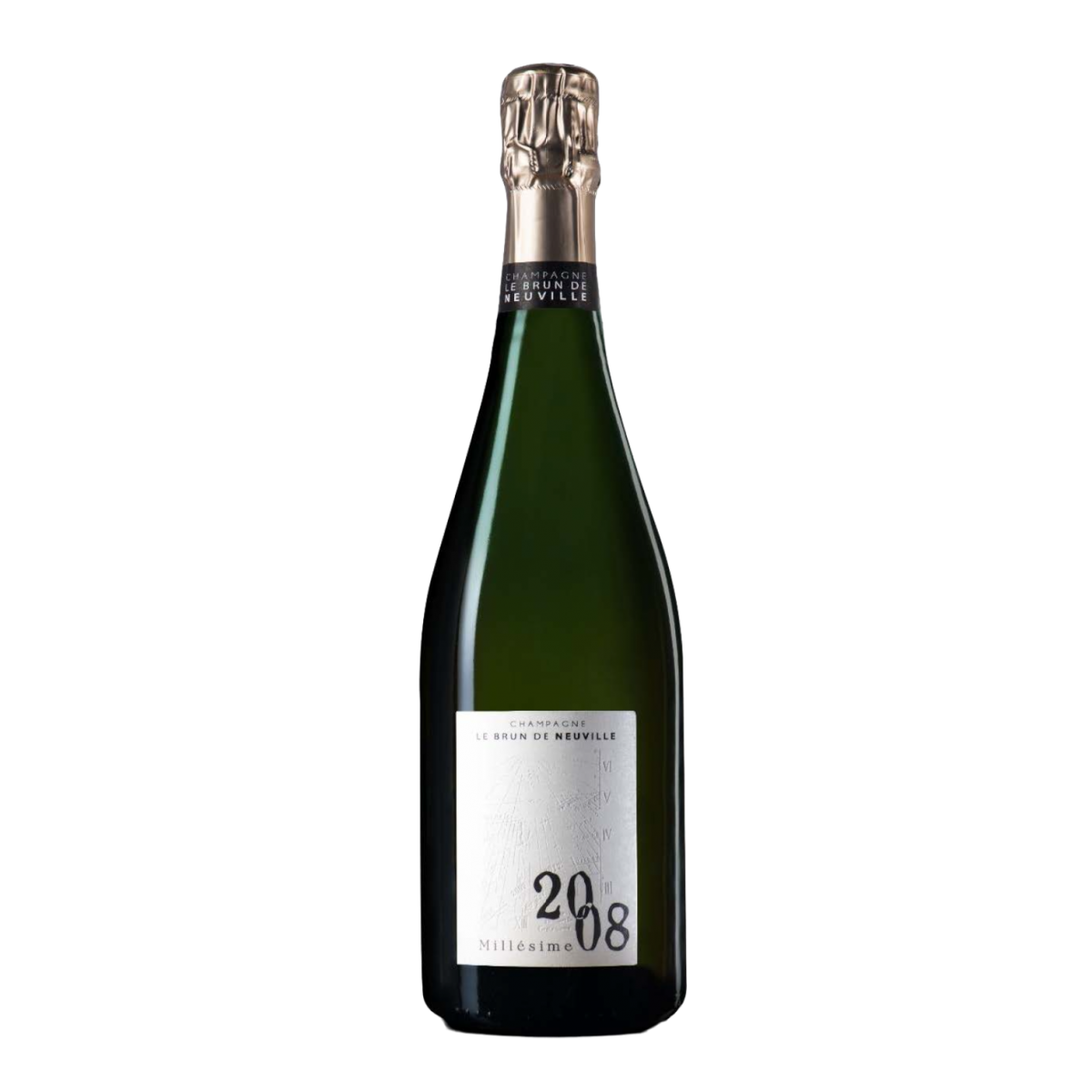  
Champagne "Millésime 2008" Le Brun de Neuville
Grape varieties
Le Brun de Neuville's Champagne "Vintage 2008" is a rare jewel that reflects the excellence and authenticity of this renowned champagne house. This exceptional vintage is the result of an exceptional year in the Champagne region. The carefully selected grapes in the Le Brun de Neuville vineyards have produced a champagne of incomparable quality. Its bright golden color catches the eye, while its nose reveals complex aromas of ripe fruit, honey and brioche, with a slight mineral touch. The Champagne "Millésime 2008" is the ideal choice to celebrate special moments and for connoisseurs in search of exceptional taste emotions. Le Brun de Neuville has created a timeless masterpiece that demonstrates its expertise and commitment to excellence.
Delivery between 4 and 9 days (indicative)
Le Brun de Neuville's Champagne "Millésime 2008" is an exceptional cuvée that embodies the essence of luxury and excellence in the world of champagne. This unique vintage was created to celebrate an exceptional year in the Champagne region, where ideal weather conditions allowed for the harvest of grapes of exceptional quality.
Champagne "Millésime 2008" is the result of the meticulous and passionate work of the Maison Le Brun de Neuville, a champagne house renowned for its expertise and commitment to excellence. Every step of the production process has been carried out with the utmost care, from the selection of the grapes to the vinification and maturation.
At first glance, this champagne impresses with its deep, bright golden color, a testament to its maturity and richness. On the nose, an explosion of enchanting aromas emerges, with complex notes of ripe fruits such as peach, apricot and pear, accompanied by delicate floral nuances, honey and fresh brioche. Each inhalation reveals new aromatic nuances, inviting a tasting full of anticipation.
On the palate, Champagne "Millésime 2008" reveals itself with grace and elegance. A fine and persistent effervescence animates the palate, bringing a sensation of lightness and freshness. The texture is creamy, velvety, offering an exquisite tactile sensation. The flavors unfold with intensity, offering a symphony of complex and well balanced flavors. Notes of dried fruit, candied grapefruit, acacia honey, roasted hazelnuts and a subtle touch of spice are revealed, adding depth and complexity to this cuvee.
The length on the palate is simply remarkable, with a lingering finish that leaves a memorable impression. Each sip is a sensory experience that evokes refinement and harmony. Champagne "Millésime 2008" is a true gustatory journey, inviting you to explore its multiple dimensions and to savor every moment.
This exceptional champagne is ideal for celebratory moments and special occasions, where it proves to be the perfect companion to elevate the festivities. Whether it's weddings, anniversaries, reunions or simple moments of shared pleasure, Champagne "Millésime 2008" brings a touch of sophistication and elegance to every event.
The House of Le Brun de Neuville, with its ancestral know-how passed down from generation to generation, has captured the essence of the Champagne terroir in each bottle of this exceptional vintage.