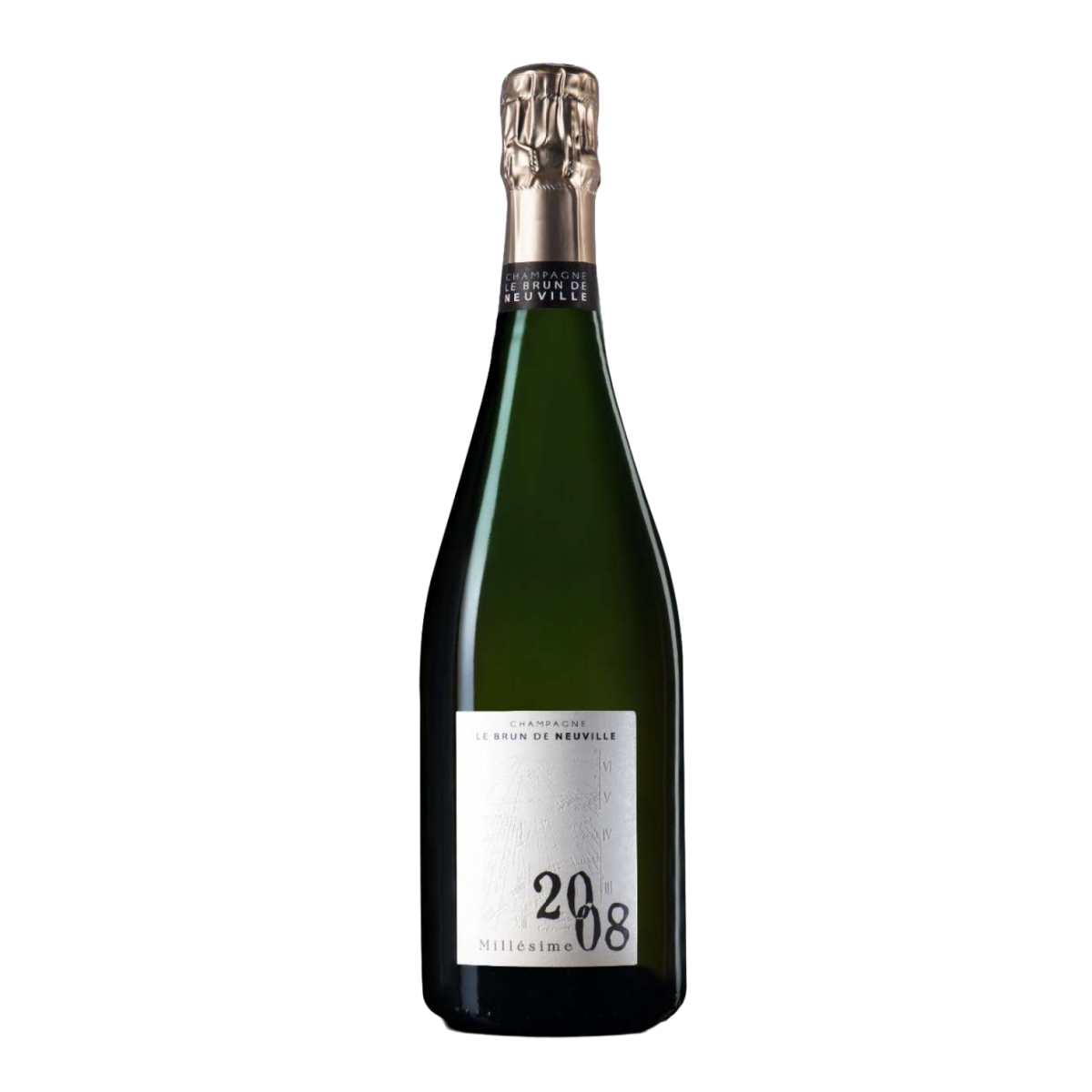  
"Millésime 2008" Champagne Le Brun de Neuville
Grape varieties
This Vintage Champagne is first animated by very fine and light bubbles that feed a delicate collar. The fluid disk closes a fresh and light visual sensation.
The Champagne Côte Brute has a clear and rather fluid colour. Its colour is pale green gold with silvery yellow reflections. It is animated by fine and lively bubbles that feed a delicate collar. The visual sensation announces a fresh yet nuanced wine.
The first nose of Champagne Côte Brute evokes subtle scents of toast, pear, fresh grapes and quince compote. It also presents a double minerality of wet chalk and flinty sandstone which give iodine, smoke and liquorice notes. It evolves with aeration towards notes of aniseed, toast, white fruit and candied lemon peel, bergamot and brioche, linked to scents of acacia, hawthorn and clove.
Finally, this Champagne Côte Brute develops a pulpy fruitiness supported by a well-integrated lemon acidity. The mid-palate also presents a chalky and sandstone minerality. This gives it elegance and length on the palate with citrus notes. The lemony finish shows a freshness boosted by smoky, minty and aniseed aromas.
It goes well with smoked salmon and tarragon espuma, smoked eel makis, fish pierrade with olive oil, sea bass stuffed with crayfish, butter and chive sauce or codfish back with beans, bacon and parsnips with garlic...
60% Chardonnay, 40% Pinot Noir
Base 2017, +50% reserve wines, +4% barrels